New York Used Car Trade In - Made Easy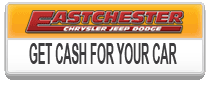 Our dealership has partnered up with Autotrader.com to get you a free, instant quote for your car. Here's what you do:
First, click on the Autotrader link and put in all the necessary information. Once you have done this you will receive your offer quote from Autotrader.


Then our dealership will contact you via phone call and email to set you up for an appointment to have your car appraised by our on-site appraisers.


When you come in, you bring in your Autotrader quote confirmation printout.


Their offer is guaranteed if all the information is correct. And due to the recent demand for used cars, in most cases our on-site appraisals are even HIGHER than your guaranteed offer.
You take the highest offer either in cash or as a trade-in - that is your decision.
Try it out for yourself today!
If you have any questions about your trade in or how the trade-in process works, contact
Dan Snyder
our Senior Purchasing Manager at 888-848-6498 x 227.