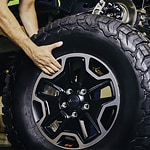 When you think of the most inconvenient things that can go wrong with your vehicle, a punctured tire or a damaged wheel probably comes to the top of the list. Without properly functioning tires and wheels, you are not going to get very far. This is why you will want to consider having a road hazard tire and wheel protection policy.
You will love the benefits that come with having such a plan. To begin with, you will get a complete repair or replacement of your tires or wheels should they become damaged due to a covered mishap. This protects the investment you have in your vehicle.
When you go to an authorized service center for the repairs, there is a $0 deductible. That is the way it should be. When you buy a package like this, you should not have to worry about out of pocket costs. If you need service, contact Eastchester Chrysler Jeep Dodge Ram for an appointment.