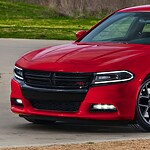 The Dodge Charger is back, and it's much better than it has ever been. This popular sedan is full sized, is packed with power and is astoundingly beautiful to the naked eye. Rear-wheel drive and all-wheel drive is available as well as an efficient powertrain. Consumers can select this vehicle from multiple color options.
The Dodge Charger has a delightful interior that's sleek and sexy. There is a good blend of comfortable fabrics, including fine cloth and premium leather. The upholstery's stitching is precisely etched as it snakes its way from the seats to the dash. The car's touchscreen display offers astounding graphics, and this particular screen is customizable. Dodge has also thrown in a tilt-and-telescoping steering wheel to better serve your driving needs. Streaming your favorite tunes is quite easy thanks to Apple CarPlay technology as well as Android Auto integration.
Purchase or test drive the Dodge Charger by visiting our showroom, so don't keep us waiting.