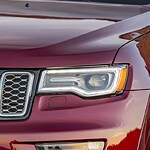 You probably know that the Jeep Grand Cherokee is one of the most capable vehicles on the road. What may surprise you is that this popular SUV is also one of the safest on the road. Here are some things you should know about the Grand Cherokee's safety.
First, the Grand Cherokee comes standard with over 70 active and passive safety features. These features include everything from an advanced airbag system to a rearview camera and Blind Sport Monitoring. The other amazing safety fact about the Jeep Grand Cherokee is its construction. You see, the Grand Cherokee is built on a high strength steel frame. This allows the Grand Cherokee to better protect you and your passengers. Overall, the Jeep Grand Cherokee is not only an exciting choice in SUVs, but it is also a safe choice.
See the Jeep Grand Cherokee in action. Take a test drive today at Eastchester Chrysler Jeep Dodge Ram.