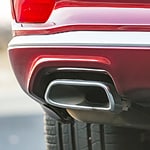 One of the best vehicles, when it comes down to performance, is the Jeep Grand Cherokee. It has a robust four-wheel-drive drivetrain ready to drive through challenging terrains when coupled with its 3.6-liter V6 engine.
The V6 engine produces 293 horsepower and torque of 260 pound-feet, making the vehicle powerful enough to tow a load of up to 3500 pounds. It consumes fuel at a rate of 18 miles per gallon in the city, 25 miles per gallon on the highway, and 21 miles per gallon when combined, ensuring it saves the driver money. The vehicle's speed automatic transmission system is fantastic for the impressive accelerations and keeps the driver on the road smoothly.
The vehicle's cargo area at the rear is incredible and spacious to carry a tremendous amount of cargo. The Rack-Pinion steering system is accurate and easy to move. The vehicle's fantastic suspension system ensures stability and balance.