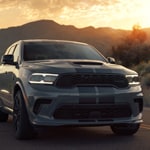 If you're looking for a full-size SUV that offers an array of comfort and convenience amenities and great performance to match, you're going to love the Dodge Durango. The 2022 Durango line-up is standing by and ready for your inspection at our showroom today.
The Durango has three different powertrain choices that allow you to set your performance level to suit your driving style. The baseline 3.6-liter Pentastar V6 engine supplies just less than 300 horsepower and more than 250 pound-feet of torque while the available 5.7-liter HEMI V8 powertrain delivers 360 horsepower and 390 pound-feet of torque with ease.
If you want even more power, you should definitely check out the top-end 6.4-liter HEMI V8 powerhouse that will put more than 450 horsepower at your disposal. You can also count on being able to tow up to 8,700 pounds of your most important gear in and around the Bronx by equipping your Durango with either of the capable HEMI engines.