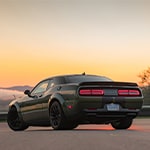 The Challenger is one muscle car that has paved the way for vehicles like it for some time. This iconic vehicle has been a symbol of power and performance in the American car market for generations and its capability features are a big reason for that.
The Challenger includes some essential capability features in its engine and performance options. Its supercharged V8 engine pumps out up to 807 horsepower and 707 lb-ft of torque. The feeling of this engine revving as you press down the accelerator is like no other.
With its variety of engine options, the Challenger can meet your exact needs in a vehicle. You can choose between the 6.2-liter V8, the 392 HEMI, the 5.7-liter V8, the aforementioned supercharged HEMI V8 and the 3.6-liter Pentastar V6. Whether you want to keep things subdued or make them a little flashier, the Challenger can make it happen.