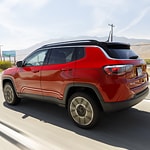 The Jeep Compass has more than 50 safety features that are designed with the latest technology. These features notify you of any risk that might occur, and hence you can protect yourself from any incoming danger. The Jeep Compass has a rigid body structure and enhanced chassis control, including hydraulic boost failure compensation, stability control systems, brake assists, and anti-lock brakes.

Electronic parking brake
The electronic parking brakes work, depending on the driver's actions. System senses are released in case there are open doors or perhaps unbuckled seat belts...
Read More