If you need to drop your vehicle off before our service department opens at 7:30 a.m., you may do so when our parking lot opens at 7:00 a.m. You may even drop it off the night before your scheduled appointment.

Use our secure Early Bird & Late Night drop box and within minutes you'll be on your way.

Our parking lot is open until:
 
  9:00 p.m. Monday - Thursday
  7:00 p.m. Friday
  6:00 p.m. Saturday
  4:00 p.m. Sunday
Here's what to do:
 
Park your vehicle in one of the customer parking spots. Have you VIN (vehicle identification number) and exact mileage handy.  
 
Walk down the service driveway ramp. To the left of the garage door is a box labelled "Night Drop Zone" (see picture below). Open the door - take an envelope.

 
Fill out the envelope completely with:      

name    
address

best phone contact   
alternate phone contact   
email address   
mileage   
exactly what you want done to your vehicle   
your signature
 

Make sure your vehicle is locked. Put the key in the envelope and drop in the slot in the drop off box.
An Eastchester Chrysler Jeep Dodge service advisor will contact you mid-morning to review your vehicle needs.



 Save time and make your service appointment online
.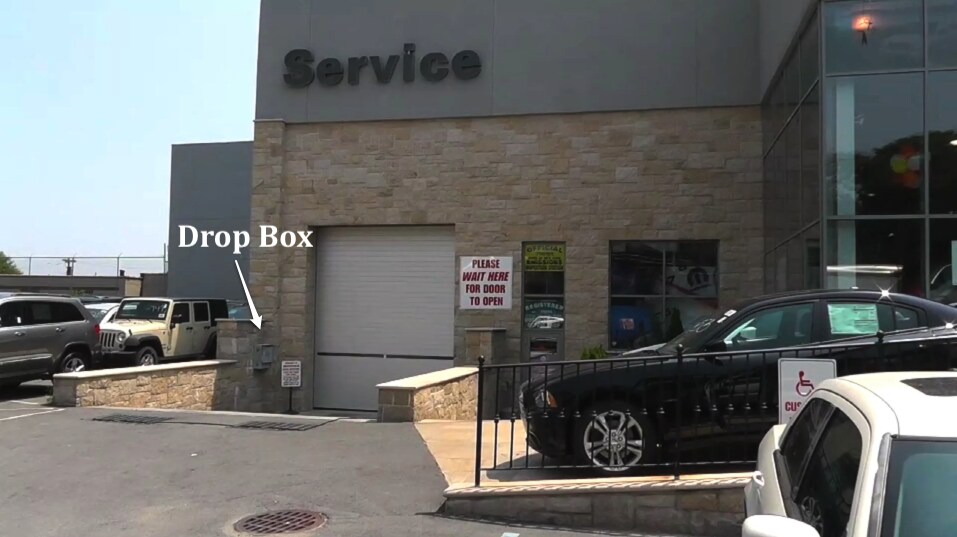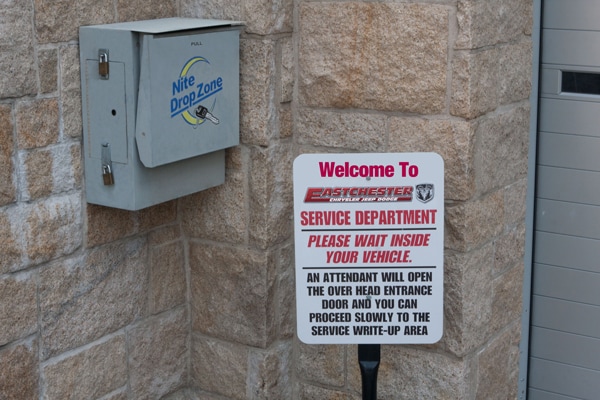 Hours
Monday

09:00AM - 08:30PM

Tuesday

09:00AM - 08:30PM

Wednesday

09:00AM - 08:30PM

Thursday

09:00AM - 08:30PM

Friday

09:00AM - 07:00PM

Saturday

09:00AM - 07:00PM

Sunday

11:00AM - 05:00PM